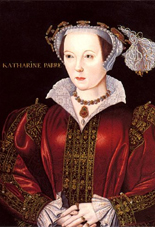 This morning I woke up to discover that Nip Tuck's Joely Richardson will portray the indelibly pious Queen, Katherine Parr, on Showtime's The Tudors.  The news was reported yesterday by EW's Hollywood insider, Michael Ausiello (I'm always amazed at the number of connections that guy has), who calls this "one of the hottest TV roles out there right now."  Several big names interested in the role have been floating around out there, Ausiello names The X-Files' Gillian Anderson as one.
The very religious and mystical Parr has been the victim of hagiography and cannot truly live up to her saintly Protestant image as portrayed by John Foxe—and this is fine by me, as I prefer the more human figure.  Combining this iconic representation with The Tudor's very sexy TV history-drama, makes me wonder what sort of synthesis will happen on the screen.  In any case, it makes for a big final season.
As an historical figure, Parr spins the most sanctified of words and jousts with sharp, well-placed rhetorical jabs.  In her letters, we see a loyal Queen, a mother figure, a proto-feminist, a lover, and a priestly friend—after all, she wrote to Lady Wriothesley on the death of her son: "If you lament your son's death, you do him great wrong, and show yourself to sorrow for the happiest thing that ever came to him, being in the hands of his best Father."  Likewise, Showtime's fan wiki page for Parr notes that her "annoying traits" come out in her being "obsessively pious to the point of self-loathing."  In other words, she is a very complicated human being.  I hope all of these aspects make their way to the screen, where creative license gets to explore the depths of a character's humanity.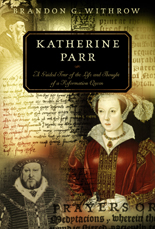 On the lesser-known front, anyone interested in more information on Parr's life, including an opportunity to read her published works and letters, should see my volume Katherine Parr: A Guided Tour of the Life and Thought of a Reformation Queen which came out at the end of April this year.
Also, last Friday, I was intereviewed briefly on a religious radio program called Prime Time America on her significance.  You can find that interview at their website, approximately 31 minutes into the program (interview here).