The American Academy of Religion 2013 (#sblaar13)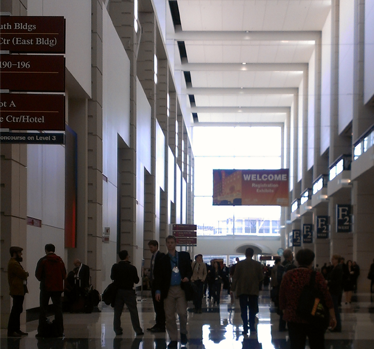 This year's annual meeting of The American Academy of Religion and The Society of Biblical Literature begins this weekend (November 23–26). I'm scheduling my sessions around a research interest, although—as is often the case—I may end up getting distracted by shiny things, like book tables, beer or coffee with a colleague, a session I never noticed when looking at the schedule, etc., so it may change.
Below is my plan below, but if you are interested in connecting, give me a hollar on Twitter (@bwithrow).
Friday
AAR Reception
7:00 PM-9:00 PM
Saturday
Transhumanism and Religion Group
Theme: Perspectives on Human Enhancement
Saturday, 9:00 AM–11:30 AM
Secularism and Secularity Group
Theme: Is the School a Secular Site? The Study of American
Education, Religion, and Secularity
Saturday, 1:00 PM–3:30 PM
Philosophy of Religion Section
Theme: Atheist (Religious) Experience
Saturday, 4:00 PM–6:30 PM
Sunday
Religion and the Social Sciences Section and Religious
Conversions Group and Secularism and Secularity Group
and Sociology of Religion Group
Theme: Religious "Nones": Understanding the Unaffiliated
Sunday, 9:00 AM–11:30 AM
Law, Religion, and Culture Group
Theme: Legal Pluralism in the Islamic World
Sunday, 1:00 PM–2:30 PM
North American Religions Section
Theme: How Religion Speaks the Secular
Sunday, 5:00 PM–6:30 PM
Monday
Religious Conversions Group
Theme: Hybridity, Syncretism, and Multiple Religious Belonging
Monday, 9:00 AM–11:30 AM
Religion and Popular Culture Group
Theme: Discussing the "Nones": What They Say about the
Category of Religion and American Society
Monday, 4:00 PM–6:00 PM