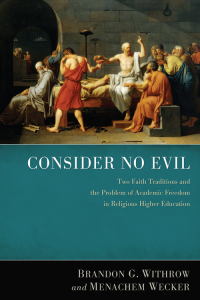 Toledo Faith & Values (the local hub of the Religion News Service), has invited me to speak for the "Coffee Talk" on Saturday, September 20 at 10 am. I will be talking about my new book, Consider No Evil: Two Faith Traditions and the Problem of Academic Freedom in Religious Higher Education. The talk will be at Barry's Bagels on Dussell Drive in Maumee, Ohio.
The official announcement from Toledo FAVS can be found here.
Hope to see you there.